The story of William "Bill" Leonard I comp. 5.0.4. P.I.R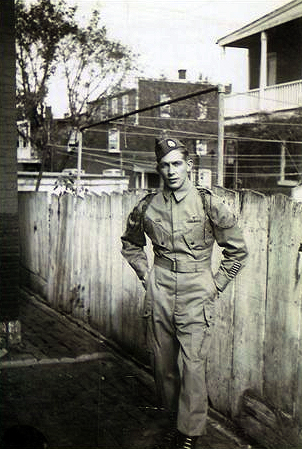 William "Bill" Leonard (Collection Bill Leonard)
I was born on 746 Walnutstreet on June 26, 1922 in Lancaster, Pensylvania. I was the youngest of 6 brothers and 3 sisters. I joined the U.S. Army in September 20, 1942. I was 20 years old and went through basic-training for 13 weeks in Camp Croft, South Carolina. After basic training I went to Fort Benning, by then it was 1943, to follow paratroop school. After paratroop school I went to advance school in Georgia.
On April 29, 1943 we aboarded an ocean liner called the George Washington in New York harbour. By May 10, 1943 we landed at Cassablanca, French Africa, in a camp called Machal Lyauthey. We saw our first real camels there! Then we went by truck to a place called Oudja, from there we had lots of dusty hikes. Then 40 & 80's for many hot and dirty days, then again by truck on a bumpy 100 miles ride to Kairouan. There some of us got a nice job demining the areas for weeks.
And then finaly after all that months of preperation we made our first combat jump on July, 9th 1943 we jumped in to Sicily, I landed 15 miles east of a town called Gela. Once on the ground I joined other I company troopers, we fought in groups or platoon formations al the way up to Palermo, then halfway to Massia, North East of Sicily. Days later our regiment was to parachute on the Salerno-beachhead, Italy, forcing the Germans to go North. Later we were put on L.C.I.'s (Landing Craft Infantry) and landed near a place called Maiori, Italy. Up hills and mountains, down in the valleys, we fought for every piece of ground, until we helped take Naples about October 1st 1943. Patroling Naples we got to know it better then we did Harrisburg, PA!
Hills...
October 28th 1943 we were transported North East towards a town called Castallo. Again with full backpacks and extra ammunition, we fought in more hills and valleys as on hill 1574, 1581, 1101, 1016, and many small villages near and across the Volturno River, day and night. For many days we were soaked head to foot getting in to Fornelli and Collie, from that shoulder high riverwater of the Volturno River. After we cleared the Germans from Macci and Fornilli, Cerro and Rachetta, and hill 1017, the divisions' objective, we were two days ahead of our artillery... There was no distance front-line in the mountains...
We crossed the Voltuno River again, through olives trees, and then climbed up between huge boulders and rocks. As usual it was terrible trying to keep up the space to the guys up front, while I was carrying the .30 caliber machine-gun with twenty live rounds attached, a M1 rifle and 2 bandoliers, a blanket roll (Horse shoe-roll), with 6 or 8 K-rations. It was dark, with no stars in the sky, you had to keep up and watch where you stepped, so as not to push rocks on the guys below you. By midnight we got on top of the mountain (hill 950). There had been a huge fire-fight going on with the Rangers for over an hour. After six counter attacks by the Germans, by noon of that same day, we had 60% casualties in our company. That night the tracers were so thick, it looked like they were making a new dawn for tomorrow.
| | |
| --- | --- |
| | |
| Rifle Garand.30M1 | M1 carabine A1.30 |
Within a few weeks we were holding hills 950, 1205, 954, 710, 687, and patroled hills 610, 877. We were relieved on hill 620. Many of us had loose shoe soles (rotted). All of us needed new equipment; rifles needed reboared and we needed hair cuts. Naples was off limits to us (we who liberated the city from the Germans just 2